Perfect way to get in the Whoop Class Drones. Great for beginner's and great for the Pro's who race and freestyle whoop class. BetaFPV has created some of the best whoop class drones that you can fly. This specific model has brushless motors and will perform without comparison. It is a bind and fly which means it has a receiver already in it ready to go. No assembly or soldering required.
 BetaFPV Beta 65 Pro 1S Brushless BNF Whoop Quadcopter (FRSky)
This is the Bind and Fly version with no radio transmitter. A ready-to-fly Tiny Whoop with all the upgrades that I prefer to fly. The tiny whoop uses the newest frame, props, motors and BETAFPV F3 flight controller. This Beta65 Pro has brushless motors!
SPECIFICATION
Frame Wheelbase: 65mm
Propeller: 31mm 4-blades propellers
Motors: 0603 19000KV
Fligh Controller: BETAFPV F4 1S Frky Brushless FC / F4 No RX Brushless FC
Firmware version: betaflight_matekf411rx_3.5.0
ESC: 5A BLHeli ESC (integrated with FC)
Camera & VTX: Z02 AIO Camera 5.8G VTX (Wire Connected Version 25 degree) (25mW only)
Battery: 260mAh Lipo HV Battery
Receiver: Built in SPI Frsky receiver (D8 & D16) 
Weight: 23.29g (without battery)
Flight time: 2 minutes with 260mAh HV battery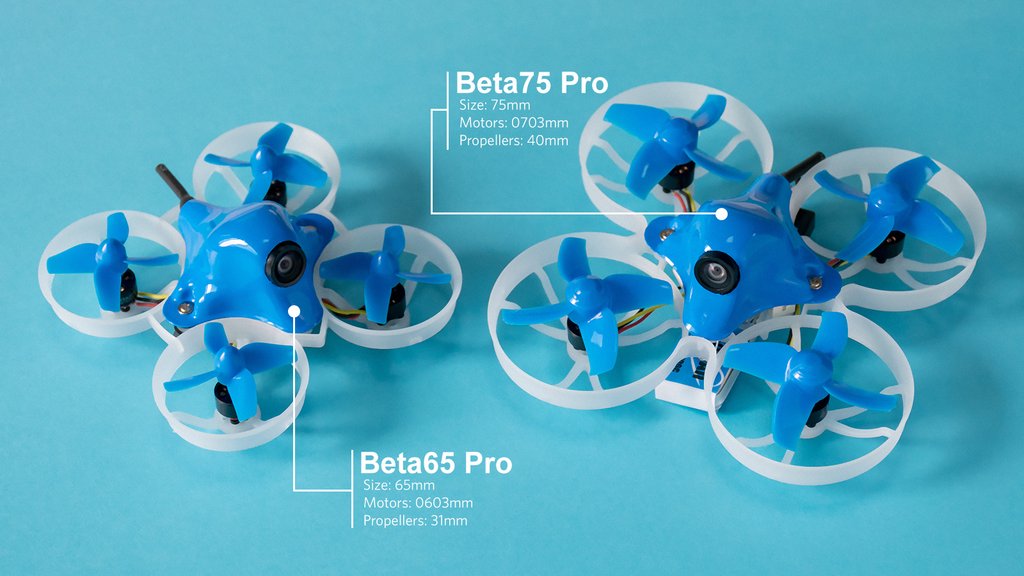 | | | | |
| --- | --- | --- | --- |
| 0603 Model | Wire Color | Version | Welding |
| 16000KV | Yellow & Red & Black | Upgraded | Bottom ring and shaft are welded together |
| 19000KV | Red (CW) & Black (CCW) | Latest | E-clip |
Flexible props protector guard included as show below.
The combo of 0703 motors with 75mm frame and 40mm 4-blades propellers has the best efficiency and could provide a great improvement in power. Really not recommend the 0703 motors with a 65mm frame ( like Beta65 Pro frame or BWhoop B06 etc). Why? The combo of 0703 motors and 31mm props (for 65mm frame) has a really low efficiency. Really not power enough. For the 65mm 1S brushless drone, recommend the 0603 motors.
Here is the testing result of different motors and frames combo.

 Throttle value means the position when the drone hovers in the air.
Flying time is the time from OSD voltage value 4.3V->2.8V.
All tested with 4-blades props. 31mm props or 40mm props.
All throttle values are tested on full charged 260mAh batteries.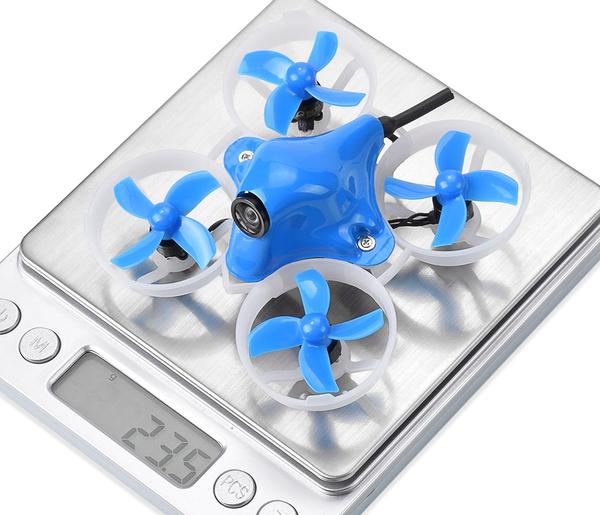 In this photo below, if you look at the motors you can see how the motors are not traditional brushed motors, these are brushless motors which will change the performance with out comparison.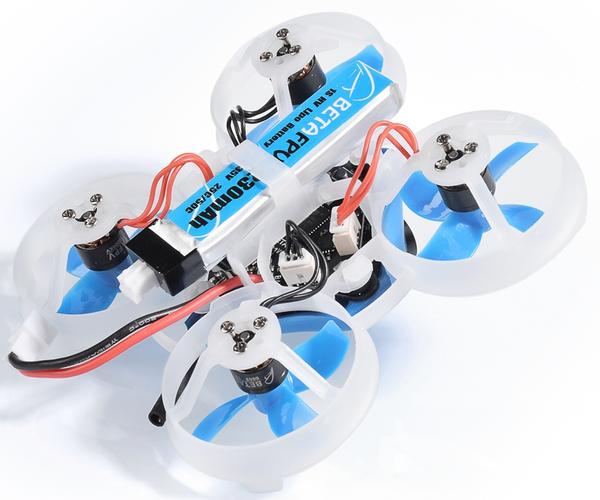 PACKAGE
1 * Beta65 Pro 1S BNF brushless quadcopter
1 * 260mAh 1S Lipo HV battery